Absolute Painting
Seasonal Promotions
For the first time ever, Absolute Painting
has created an offer for the DIY'er.

Gun-4-Hire
With Gun-4-Hire, you perform your own preparation
for paint. Mask your non-painting surfaces and paint
your own trim. We provide a team of professional journeyman
painters who step in to spray the siding of your home with
the material of your choice.Need more help than that?
Let us know how mutch of the work you want to do and we can create
a custom package to suit your personal needs.

Select materials from industry leaders like Sherwin Williams,
Kelly Moore, Miller Paint, PPG, Glidden and more. Best of all,
we will provide the first 5 gallons of paint included in your price.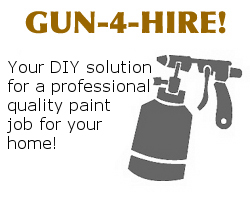 ---
Save $Thousands$
with Gun-4-Hire!
Get your hired Gun for
$850
(single story homes up to 2000 sq.ft.)
Call for more information